4 Countries - 1 Trip: Rhine Valley Region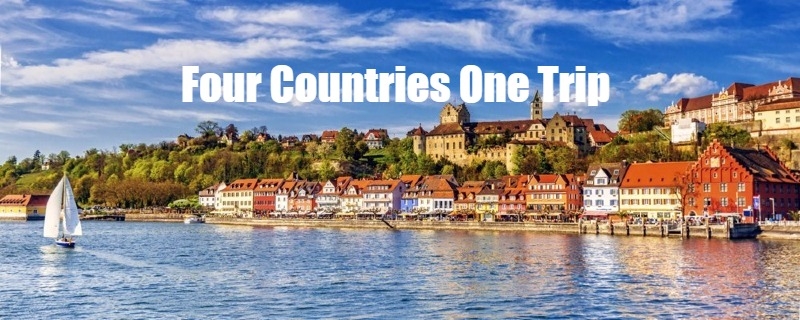 Austria, Liechtenstein, Switzerland & Germany - 2018
7-Night, 8-Day Deluxe Package, Starting at $5,625 per person* Inclusive of land transportation, private guided tours, breakfasts / dinners plus a multiple of tastings.
There are few places in the world where you can visit four countries in one trip without traveling farther than a few dozen miles. However, one of those places is "Rheinthal" - German for Rhine Valley.
In one day you can enjoy breakfast in Switzerland, lunch in Austria and dinner in Germany. This is a place where nature from four countries finds its way onto your plate via regional cuisine. It is home to a wide variety of winegrowing areas, numerous distilleries, regional breweries, cultural festivals, and romantic landscapes. Plus, it has a surprising number of modern architectural attractions, museums in addition to the idyllic towns, villages and mountains one expects to find in this region.
A delightful, joyous, active itinerary with walks in crisp mountain air with plenty of opportunites to experience the best the region has to offer.
Package Pricing Includes:
- 1st class train from Zürich Airport to Feldkirch
- 7 x nights in select 4* hotels, deluxe room category (see hotels to the right)
- 7 x breakfast
- 1 x lunch
- 7 x dinner
- Private guided tours - English-speaking
- Welcome tour on day 1
- All-day private Tour: Feldkirch (AT) + Liechtenstein + Vaduz (LI) on day 2
- All-day private Tour in Bregenzerwald (AT) on day 5
- Bregenz (AT) on day 6
- St. Gallen (CH) on day 7
- 1 x Tasting wine in the ``Fürstliche Hofkellerei Liechtenstein``
- 1 x Passstempel Liechtenstein
- 1x Lünersee – cable-car (up & down)
- 1 x tasting different types of cheeses
- 1x Kässpätzle – tasting (lunch)
- 1x Wälderbähnle + Bezau-cable-car (up & down)
- 1x Schnapps – tasting
- 1x Boat trip Bregenz – Lindau (roundtrip)
- 1x Karren-cable-car (up & down)
- 1st class train from Rhein valley to Zürich Airport
- All transfers according to program with comfort cars and experienced English-speaking driver
(*) Land Only Package - Price per person is based on double occupancy and subject to availability. Price quotes for land arrangements are subject to increase without notice. However, once we have received your deposit, land prices are locked and guaranteed in USD.
Itinerary Summary
Day 1: ARRIVAL AND "SCHNITZEL-ESSEN"
Arrival at Zurich Airport (CH). You will travel by 1ST class train from Zürich Airport to your 4* hotel in the region of Feldkirch (AT): approx. 2h and check in. Free time to enjoy the historic and idyllic town of Feldkirch. In the evening, you will enjoy a ''Schnitzel'' dinner in medieval ambience of the Schattenburg castle Restaurant with a welcome guide. Overnight you will stay in Feldkirch.
Day 2: FELDKIRCH AND LIECHTENSTEIN - CITY & WINE
Breakfast at the Hotel. You will start the day with a lovely guided tour in the heart of Feldkirch, the well maintained medieval town center at the foot of the Schattenburg castle. A private transfer with a city guide will bring you to Liechtenstein: approx. 45 min. Vaduz, the capital, is surrounded by breathtaking scenery, lookout points over the Rheinthal, the castle of the "Fürst of Liechtenstein" (no entry possible). You will enjoy some princely moments walking via the car-free center of Vaduz, you will collect the "Passport Stamp" and continue with a transfer to the Prince of Liechtenstein
Winery, to sample the excellent wines. Private transfer back from Liechtenstein to the hotel in Feldkirch. Dinner and overnight stay in Feldkirch.
Day 3: LÜNERSEE AND BREGENZERWALD
Breakfast at the hotel. Private Transfer from Feldkirch to the cable-car "Lünerseebahn"- one of the largest mountain lakes in the Alps. Take the cable-car to the top and easy walk. Our suggestion: beside several high mountain hikes there's also the option to walk a tour around the Lünersee and runs through a picturesque mountain area. The easy round tour takes about 2:15h and after a pleasant walk around the lake shore, you can enjoy the lunch on approx. 1970 m high at the chalet restaurant `Douglass Hütte``. You will have a private transfer to Bizau (drive via ski area Damüls with breathtaking landscapes), approx. 2h. Dinner and overnight stay in Bregenzerwald.
Day 4: KÄSSPÄTZLE IN SCHÖNENBACH
Breakfast at the hotel. Private transfer to Bizau/Schönenbach - is one of the most beautiful refuge settlements in Vorarlberg with its many traditional cottages and picturesque landscapes. Hiking at Schönenbach offers a long and easy loop tour without huge high difference via Iferswiesalpe, along the
``Schneckenlochwand`` until Schönenbach and back. Lunch: ``Kässpätzle`` at the chalet restaurant ''Schönebacher Hütte''. ``Kässpätzle`` is an Alpine dish served mostly in the mountainous region of Austria's alpine huts and tastes especially good after a walk in crisp mountain air. A private transfer will bring you to Schwarzenberg for a memorable train journey with the traditional "Wälderbähnle" to Bezau. A nice walk approx. 30Min to the cable car Bezau. You will take the cable car to the top on the Panorama restaurant Bezau. Aboard, an overwhelming panoramic view opens in front of you. From the rolling countryside of the foothills of the Alps in the North, to the Lake of Constance. From valleys and grasslands to alpine huts and up to steep mountaintops of the mountain ranges in the South and East. Private transfer to the hotel, dinner and overnight stay in Bregenzerwald.
Day 5: "SCHNAPPS" TASTING AND CLOSE TO THE NATURE
Breakfast at the hotel. Private transfer to Schwarzenberg where you will enjoy a guided tour. Schwarzenberg is a village, part of the district of Bregenz where the village center is heritage-protected for its clapboard houses. Transfer to Alberschwende for a "Schnapps" tasting in a local family distillery. In the afternoon, you will visit an innovative farmer family in Bregenzerwald. They have rediscovered the benefits of the nature-close-products and produce it by themselves with classic family methods. Visitors can experience and understand all agricultural processes, tasting different types of cheeses in house. Transfer back to the Hotel, enjoy free time to relax in this spectacular region, with dinner and overnight stay in Bregenzerwald.
Day 6: BREGENZ AND LINDAU (AUSTRIA – GERMANY)
Breakfast at the hotel and departure by a private transfer to Bregenz (AT), the beautiful capital of Vorarlberg, at Lake Constance. You will have a guided tour in the charming Bregenz (2h) and in the afternoon, you will enjoy a boat trip to Lindau Island. Free time to discover the most famous sights of the Lindau Island, such as the harbor entrance, the "Thieves" Tower (Diestrum), the Mang Tower, the Powder Tower, the pictures-que alleys and enjoy a stroll along the harbor promenade with its Mediterranean atmosphere. Boat trip back to Bregenz and private transfer to the hotel with dinner and overnight stay in Rhine Valley.
Day 7: ST GALLEN (SWITZERLAND)
Breakfast at the hotel and departure by private transfer to St Gallen (CH). You will have a city guided tour and free time for shopping (4h) in Switzerland. St Gallen it owes its reputation not just to the monastery complex, which is a World Cultural Heritage Site, but also to the success of its textile industry. A private transfer will bring you in the evening to Dornbirn Karren. In only 5 minutes, the modern cable car glides to the top of the 976m high Karren, offering stunning views, a panoramic view over Lake Constance and lots of alpine peaks in Austria, Germany and Switzerland. In the Panorama Restaurant you will enjoy a lovely goodbye dinner. Transfer to the hotel and overnight stay in Rhine Valley.
Day 8: DEPARTURE DAY
Breakfast in the hotel. Transfer to Zurich Airport - end of journey.
Customization is always an option.
Around Austria, Germany, Liechtenstein, & Switzerland
Terms, conditions and restrictions apply; pricing, availability, and other details subject to change and/ or apply to US or Canadian residents. Please confirm details and booking information with your travel advisor.