Spectacular South Africa Culture & Nature in Harmony with Collette
About Dubai - From $2.00 USD
From $2,549* pp | 14 Days • 22 Meals *Rate is per person, land only, double occupancy, tour inclusions and available options may vary based on departure date.
South Africa's cosmopolitan cities, posh resorts, expansive desert, magnificent wildlife and fertile wine country combine with a harmonious mix of many cultures to create a beautiful mosaic to discover on this fascinating tour. Search out the "Big Five" during an open-air safari game drive. Visit the Featherbed Nature Reserve. Travel the lush Garden Route between the mountains and the balmy Indian Ocean. Visit a working ostrich farm. Relax among the vineyards in the winelands region. Indulge in a wine tasting and a wine pairing dinner. Relax during a leisurely 3-night stay in Cape Town, one of the most beautiful cities in the world.
Your tour – at a glance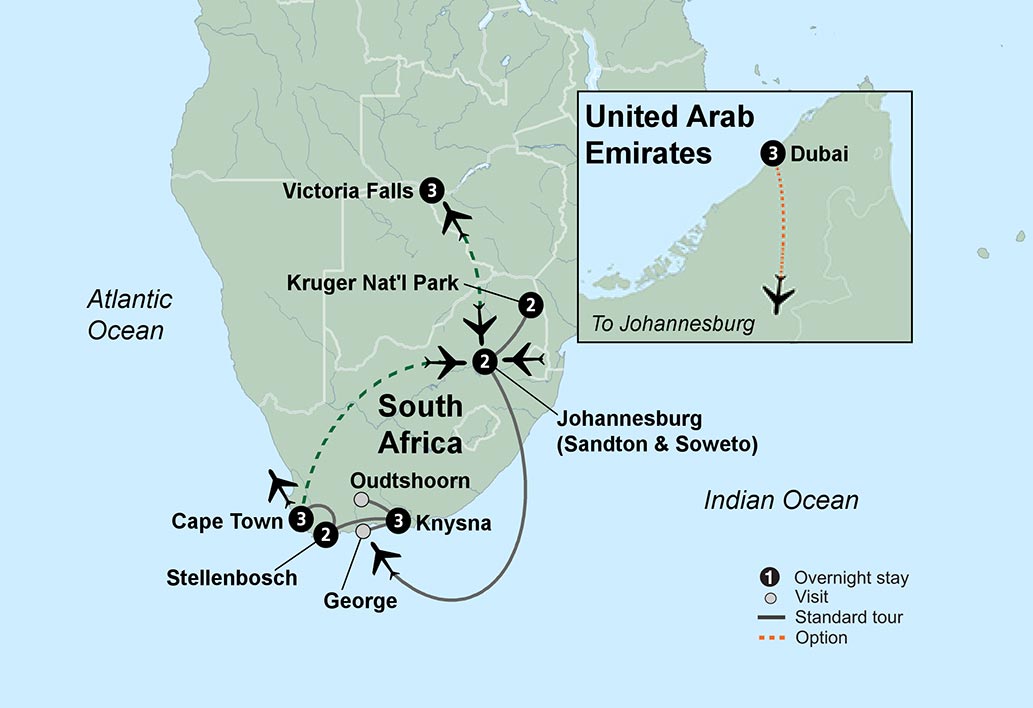 Visit one of the oldest working ostrich farms in Oudtshoorn – the ostrich capital of South Africa – and learn about these fascinating animals.
Experience a thrilling cable car ride rising more than 3,000 feet.
Learn the local beat with a lesson on the djembe drums.
Must-See's
Search for the "Big 5" on an open-air safari game drive!
Marvel at the breathtaking Drakensberg Mountains.
Behold the luxurious mansions of Soweto — South West Township.
Culinary
Join locals for lunch at a nearby Shebeen, or house tavern.
Experience an unforgettable African "BOMA" dinner.
Enjoy lunch amongst the ancient milkwood trees in Knysna.
Personalize Your Trip

Pre and Post Tour Extensions. Start and end your vacation rested.
Arrive Early:
Pre night in Sandton
Partake in the high-end shopping and elegant dining in this area of Johannesburg.
Depart Late:
Post night in Cape Town
Take in the stunning beauty and warm hospitality of the lively city.
14 Days Left ~ Save up to $250 per person*
When you book by 05/31/2017
Terms, conditions and restrictions apply; pricing, availability, and other details subject to change and/ or apply to US or Canadian residents. Please confirm details and booking information with your travel advisor.
You will visit the following 3 places:
Johannesburg
The City of Johannesburg Metropolitan Municipality is a metropolitan municipality that manages the local governance of Johannesburg, South Africa. It is divided into several branches and departments in order to expedite services for the city. Johannesburg is a divided city: the poor mostly live in the southern suburbs or on the peripheries of the far north, and the middle class live largely in the suburbs of the central and north. Around 20% of the city lives in abject poverty in informal settlements that lack proper roads, electricity, or any other kind of direct municipal service. Another 40% live in inadequate housing with insufficient municipal housing.
Cape Town
The City of Cape Town is the metropolitan municipality which governs the city of Cape Town, South Africa and its suburbs and exurbs. The city is famous for its harbour, for its natural setting in the Cape Floristic Region, as well as for such well-known landmarks as Table Mountain and Cape Point. As of 2014, it is the 10th most populous city in Africa and home to 64% of the Western Cape's population. It is one of the most multicultural cities in the world, reflecting its role as a major destination for immigrants and expatriates to South Africa. The city was named the World Design Capital for 2014 by the International Council of Societies of Industrial Design. In 2014, Cape Town was named the best place in the world to visit by both The New York Times and The Telegraph.
Victoria Falls
Victoria Falls is a town in the western portion of Zimbabwe, across the border from Livingstone, Zambia, and near Botswana. The town lies immediately next to the falls. They are the major attraction, but this popular tourist destination offers both adventure seekers and sightseers plenty of opportunities for a longer stay. Tourist numbers are now back to historical levels, with many package tour operators adding Vic Falls back to their itineraries, and this is easily Zimbabwe's busiest tourist destination. In response, there is a lot of a cartelisation and price fixing, with prices for accommodation and activities suspiciously high, even though the hotels are not full and activity operators not operating at full capacity. This destination is now considerably more expensive than other destinations in Zimbabwe.